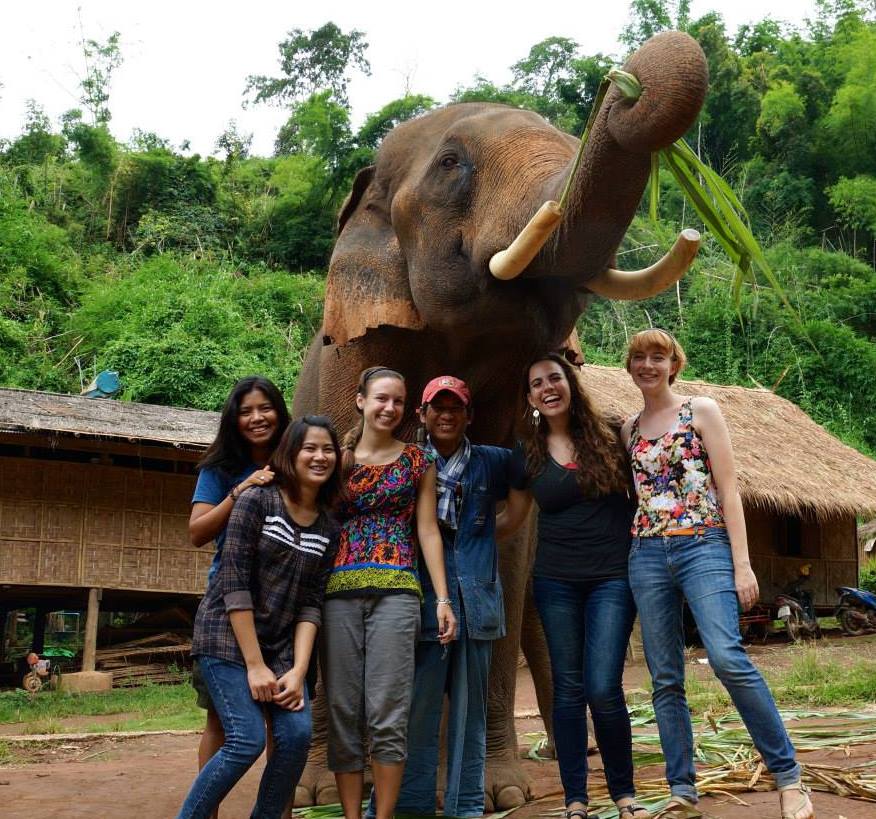 by Rebecca Shoer
In my short professional career thus far, I've learned two essential truths: there are no set paths, and it truly is a small world. I've also learned important facts about how many teeth elephants have (six sets of four), how to drive a motorbike (wear a helmet), and how long turtle eggs incubate (sixty to ninety days). But those trivia are a little more specific than the general lesson at large.
I've always known I wanted to work with animals, and over time I learned that specifically I wanted to focus on protecting wild animals and their habitats. However, my interests have always been far more varied than just "wildlife," and so I attended a small liberal arts college that allowed me to dabble in everything from Korean film to theater to animal behavior. When senior year rolled around I was faced with the increasingly troubling reality that soon I would truly be out in the "real world." My family is chock-full of PhDs, and I knew that I should only go to graduate school if I was truly passionate about a subject and project; trouble was, I still had no idea just where my interests lay. Did I want to study animal populations? Monitor natural resources? Work in policy? There were simply too many places for me to go, and I decided I needed to actually try living some of these possibilities before I committed years of my life to them.
And how, exactly, did I find myself flying across the world with complete strangers (now close friends) two weeks after graduation? Pure, unadulterated chance. A friend of mine in school had decided out of the blue to reach out and contact Dr. Josh Plotnik (the founder of Think Elephants), after we watched clips of Dr. Plotnik's ground-breaking research on elephant cooperation in animal behavior that semester. Long story short, he told her that he was looking for four research assistants to come and work in the field in Thailand; she told me, I emailed Dr. Plotnik, and before I knew it I was performing cognitive research on Asian elephants!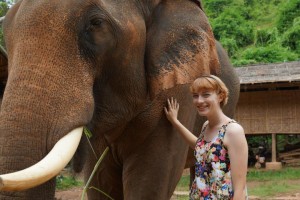 Rebecca and Somjai (photo by E. Gilchrist)
     My year in Thailand taught me more about myself than I would realize for a long time; even now, nearly two years later, my decisions are being shaped by that incredible experience. First of all, I was surprised to find that I actually didn't want to be a research biologist. Scientific research in any field fascinates me, and I will always be curious about the world I live in and the forces that shape it. However, designing experiments and working day after day to refine procedures and run trials, is simply not my cup of Thai iced tea. I found myself drawn more and more to explaining our research and conservation initiatives. Living in a developing country and working with a critically endangered species, I was also confronted each day by the ways in which conservation biology can be supported or stymied by hundreds of factors beyond any one person's control: from the dying tradition of the mahout to political coups, conservationists cannot work in a scientific vacuum.
I returned to the U.S. in August, once again unsure of just where I was headed. I volunteered at a science and nature museum, and endured the record-breaking winter of 2015. In May, I was thrilled to be hired by Mass Audubon, a conservation organization that has been a part of my life since childhood. I moved to Wellfleet, MA, to oversee a long-standing conservation program protecting the threatened Diamondback terrapin at Mass Audubon's Wellfleet Bay Wildlife Sanctuary. I work with 80 volunteers, from high schoolers to retired professors, all of whom are passionate about protecting the rapidly disappearing Cape Cod coastline. On any given day, I could be out in the field protecting a nest, relocating eggs, teaching a camp group, or giving a public presentation. Between November and January, I helped in the annual massive sea turtle rescue effort that takes place along the entire coast of Cape Cod Bay.
I'll be returning to the Audubon in March to help with horseshoe crab research and then once again my dear turtles. But for right now? I am currently working with an award winning wildlife filmmaker named Allison Argo, helping her prep footage and materials for the edit of her newest film, THE LAST PIG. How did I manage to link up with a six-time Emmy award winning filmmaker? I emailed her out of the blue, after hearing from a co-worker that she lived just fifteen minutes from the Wellfleet Bay Wildlife Sanctuary. After emailing back and forth and meeting at our favorite coffee shop, I started working with her in January. Turns out, not only did Allison meet Dr. Plotnik while filming in Thailand, but I had also watched her film about horseshoe crabs and red knots in that same animal behavior class!
So although I will be staying for another season with Audubon in Wellfleet, I now have a growing interest in the world of wildlife filmmaking. Knowing me, however, this time next year I could easily be living in Costa Rica, Iceland, or New York City. Yet no matter where I end up, the lessons from my time with Think Elephants won't fade. I learned how privileged I have been to be able to follow my wandering career path, and how I must use those privileges to give voice to those who have none; how to have faith in myself to pursue the seemingly most random and far-fetched opportunities, for there are no set paths. And finally, that learning to think like, and understand, others, is the true goal of science, films, and life itself.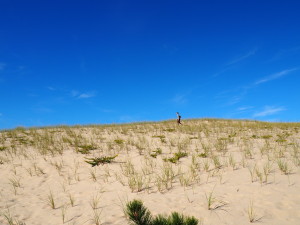 Read about Rebecca's turtle adventures online and check out the trailer for THE LAST PIG here:
http://blogs.massaudubon.org/wellfleetbaycitizenscience/
http://www.thelastpig.com/